First up: a little In Memoriam for The 'Weekly Status Update'. Remember those? I vaguely recall wanting to post weekly updates with five bullet points each. Ain't nobody got time for that! I'm following up on excellent advice by cpbotha:  "when under-achieving, lower your standards". I'm no longer setting any expectations here, I just post whenever I want, whatever I want from now on. So what's cooking?
Last week I briefly visited the University of Koblenz · Landau, in, you guessed it, Koblenz to work on a EuroVis STAR paper (time to shine) with the newly minted J.- PROF. DR. KAI LAWONN, who you may remember from:
I'm currently visiting Bernhard Preim's excellent visualization group in Magdeburg to:

Meet the lovely group members
Work on the aforementioned paper (deadline: 14th of February, I can't even…)
Oh and I also gave a talk last week. It was all over the news ;), but in case you missed it, check the group website

We are writing the aforementioned paper in Overleaf. Which is pretty awesome. I might do a little comparison post on ShareLatex vs. Overleaf when deadline season is over (estimated timeframe: never).
I'm getting a notification for a EuroGraphics Education paper I submitted next week on Monday. Will this end my paper rejection streak? Time will tell 🙂
I should probably get back to, oh writing a paper or two, but I'll leave you with a nice action photo: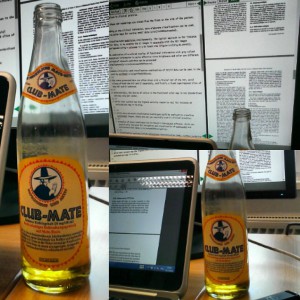 I didn't realize when I bought it, but apparently, Club Mate is/was totally the hacker tech-startup drink of choice and I am now officially totally cool for drinking that.
Did I just write out five bullet points? Is this a Weekly Status Update in disguise?